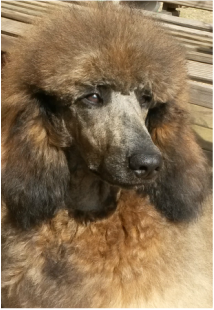 Welcome to our site for our wonderful poodles! As a professional groomer I've always loved Standard Poodles. Now having my own has opened my eyes as to how truly fantastic this breed is. They are intelligent, loving, always seeking your companionship, playful and athletic!! I'm in love! I've recently heard that once you've had a poodle there's no other dog for you. I believe that whole heartedly!!
We live here in southern New Hampshire with our much loved animals including chickens, rabbits, ducks and turkeys. We have 4 acres of radio fencing for the dogs
to run
. They spend much of their time outside playing and sunbathing. Sampson loves to chase butterflies and bubbles, he would be wonderful at Agility! They are fed a high quality diet that consists of a variety of raw meats and also Taste of the Wild dog food.
I groom them frequently to keep them looking and feeling their best. They are such touchable dogs with their fluffy curly hair! Absolutely gorgeous! You just can't help scruffing their heads and ears!!
We are now implementing the Bio Sensor or Super dog program. This military designed program jumpstarts the puppies neurological development. They will have many benefits from this including health, learning and adaptability.
Our pack has a variety of all the colors in their lines with Sammy having parti colors and Aikia having brindle. Sampson and Aikia both have Champion in their lines. I could not have asked for more beautiful dogs! Please Check our
Sire and Dam page for more photos of Angelica, Aikia and Sampson and our newest addition Diesel.
---
Reviews
Ok so I think I just may have the worlds most perfect pup! Slept all night not a peep took out this morning peed and pooped in her spot came in ate played now cuddling ......seriously, I've never experienced such a well natured pup. Thank you again :) Dawn
​*
OMG I LOVE HER!!!
She is so personable and playful and cozy and sweet and and and
She and Cinni are doing so great!
Thank you so much for such a fantastic dog! Well for 2 fantastic dogs ️
Stacey
*
We got our Standard Poodle Oakley from Jessica! All of her dogs are completely amazing! Oakley's mom Angelica and Dad Sam are absolutely stunning poodles. Just gorgeous! They create such beautiful puppies. And they are AKC registered puppies too. Oakley learns so fast. She knows multiple commands and picks up on her training right away. The vet extremely happy to see how healthy and beautiful she is. I have her in daycare and puppy school and she marched right in like she owned the place. Definitely not a scared bone in her body. Very brave! If your on the fence about getting a Standard Poodle, just do it and get one from Jessica. You really won't regret it!!
Cassie
*
Me and my family had the pleasure to spend time with Jessica Patch and Doug smith back in June of 2015 to evaluate the litter of pups from Samson and Angelica for a perfect fit to be trained as my daughters service dog" Well let me tell you how hard this decision was due to the fact that several of the pups in this litter would of been a great fit️ So I let my Daughter help choose and she connected to Hazel very fast it was love at first sight ️ The journey in training Hazel began and she is not just in my opinion but in everyones that's sees meets and has the opportunity to see her work with my daughter to this day the most well behaved service dog out there smart sweet very intuitive and Edgar to assist my daughter and her needs first and foremost yeah she is pretty amazing all the way around . Twards the end of 2017 year in Nov. we decided to jump in full force and get another amazing St. poodle baby from Jessica and we are just as much in love With Ella as we are with Hazel Ella is now a little over 4 mon. And has started her training in public to assist she is my sons baby girl but will be assisting me at times as I have severe arthritis in my knees and athsma that can creep up that I don't realize so she will be trained to help alert me when I need her she is doing fantastic smart eager and loving just like her big sis same parents 2 1/2 years apart Hazel is a apricot cream and Ella is pure black they are both amazing and we feel so blessed to have them as part of our family when the vest go's on they know it's Time to work when the vest is off at home sometimes out they are still so very well behaved and assist but at a more laid back pace they love trampoline time with the kids or chase after them on their bikes play hide and seek or just running romping around the yard long walks camping and hikes.️Jessica Patch's Kindred K9 St. Poodles are healthy happy and very smart and we highly recommend them.
️The Ogden Family️
*
Patch's standard poodle puppy's are the best! Their parents are very healthy, happy, beautiful dogs. The puppies are so beautiful, happy and smart. We got our Oakley from them and we couldn't be happier with her. Healthy and beautiful as can be. Darren
*
Jessica is an absolutely wonderful lady, who loves her animals very much. She does an outstanding job grooming as well. If you are looking for a wonderful pup, Jessica of Patch's Kindred K9 is the way to go.
*
Love Jessica!! We got our two poodle puppies from her and they are amazing!! Gia